Meriden Britannia Co. 1880 Silverplate Tea Set Egyptian Revival 3 Pcs Pheasant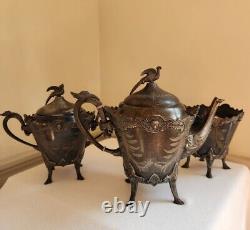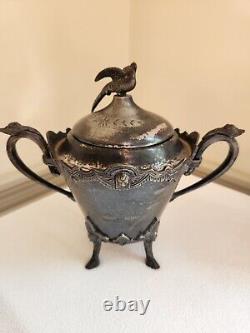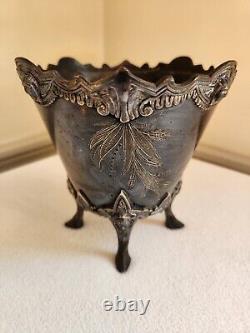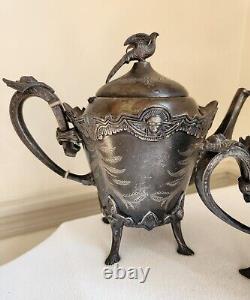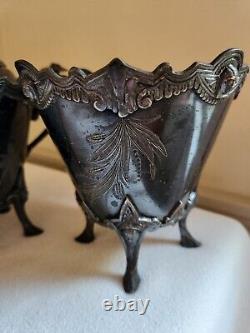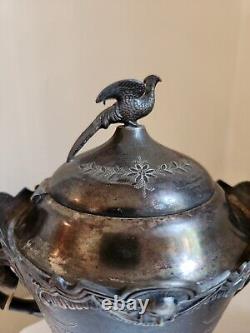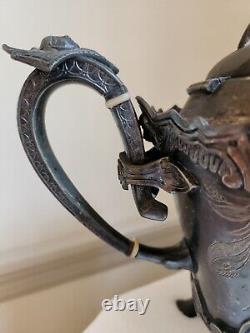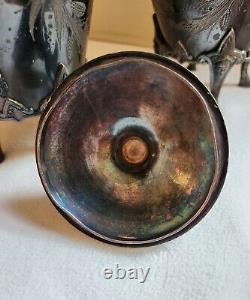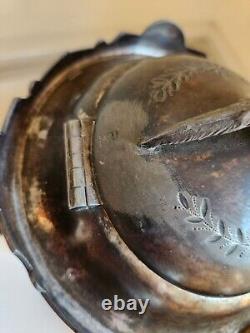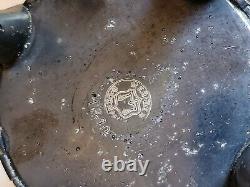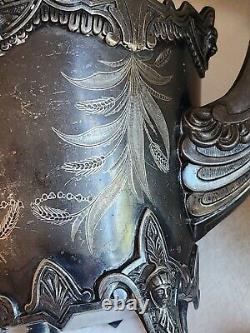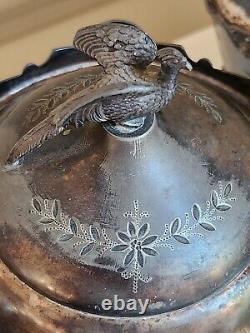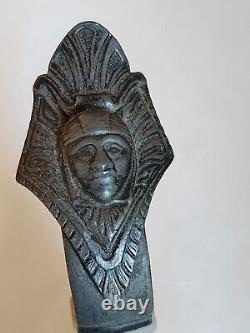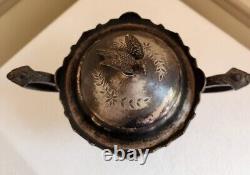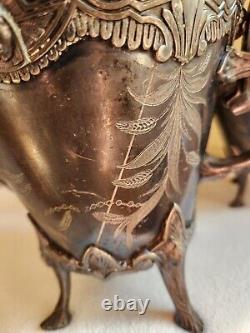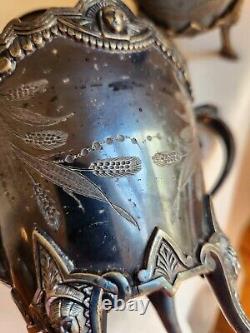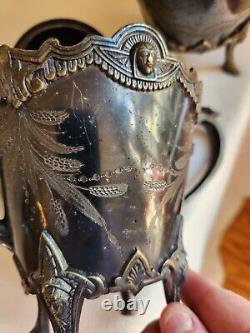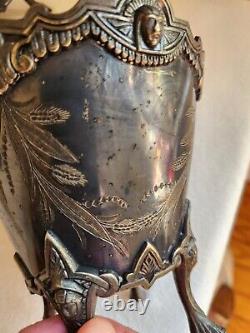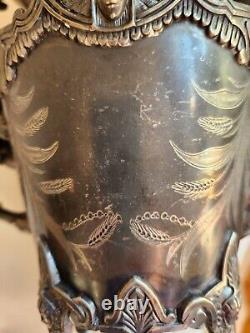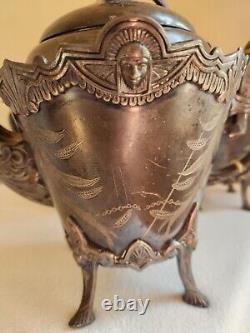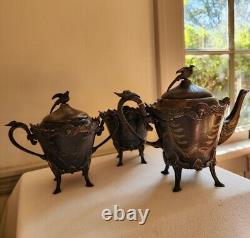 What an amazing, fun find, hidden under layers of dust in an estate sale in nearby Maryland in the woods. I only wiped off the dust in order to protect the silverplate; silverplate is out of my wheelhouse, but how could I not pick this set up?
These three items are marked "Meriden B Company 1880" with their mark in the center. I would say the design is Victorian Aesthetic Egyptian Revival. In a typical Victorian Aesthetic eclectic approach, it features pharaonic heads depicted in a reminiscent ancient Greek design, etched wheat sheaves and floral motifs, curlicue shapes in the spout and handles, and of course- why not - phoenix/pheasants as the lid pulls.
The set consists of a teapot, a covered sugar bowl, and a waste bowl. The teapot is 9 1/2" tall, 10" from tip of handle to spout, 6 1/4" in diameter across the round part of the body, and the opening is 3 1/2" across. The waste pot is 5 1/4" tall and 5 5/8" across the top. The covered sugar dish is 7 3/4" tall and 8 3/4" from tip of handle to the other tip. In terms of damage and wear, of course this set needs polishing and I can not tell how much silverplate loss there may be, my guess is not much; I do see some small spots through the tarnish.
The hinge to the teapot is in great working condition, and the sugar lid pulls off easily and fits well. There are really no dents apparent - only the sugar lid inside rim is slightly dented here and there. The phoenix/pheasants and Egyptian Pharoah/Greek heads are in great shape.
I noticed a line down the side of the teapot-It actually looks like it could be a part of the design, or is it a scratch? Light scratches throughout commensurate with antique age. This was a carefully-kept set. If you would like more pictures of any aspect, please message me. Please see all pictures for condition and details.
And if you love Egyptian Revival Victorian era items - please also see my listing for the bronze tazza with agate scarabs and engraving.