European Silverplated Tea Kettle With Chaffing Dish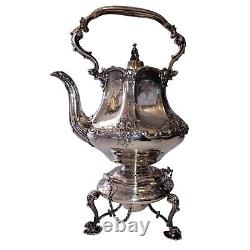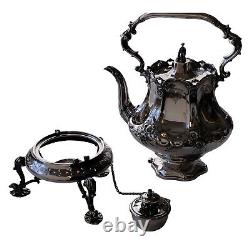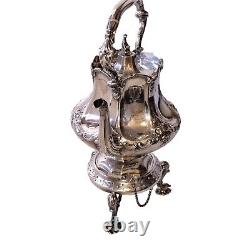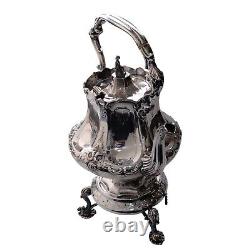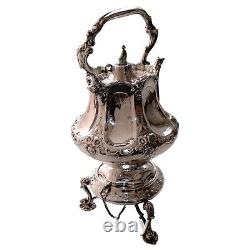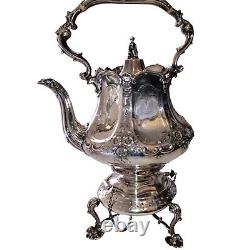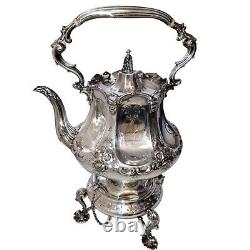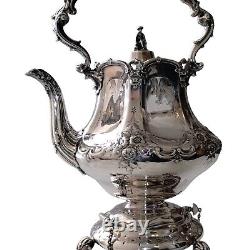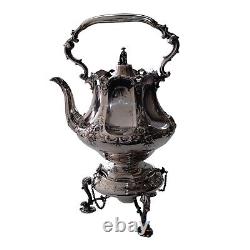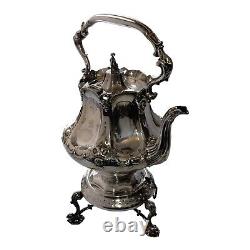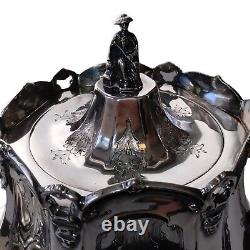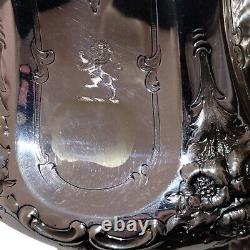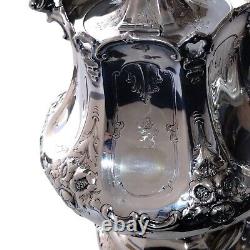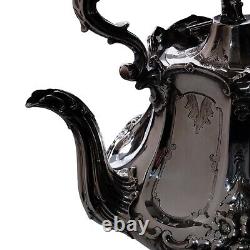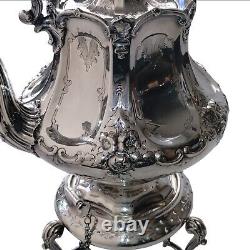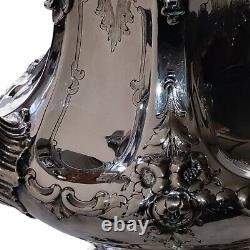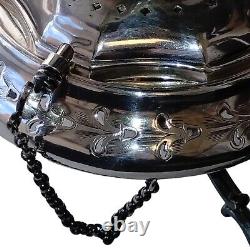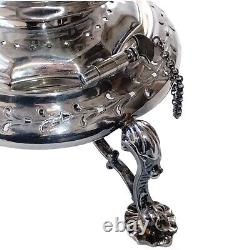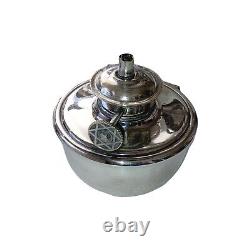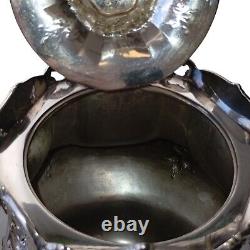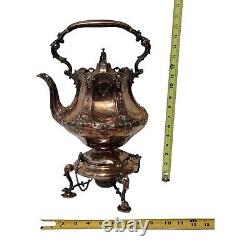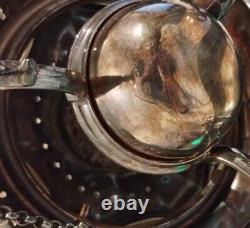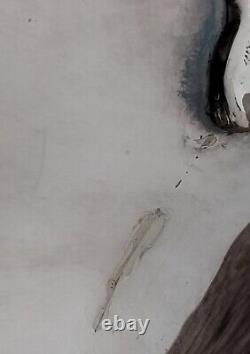 This European Silver Tea Kettle with Chaffing Dish is an amazing statement and conversation piece. Our appraiser believes that it was custom made for someone who was probably from nobility or upper class as it has the crest lion passant. Thus far, the actual maker has been untraced.
The decorated style and form resembles other similar examples from the 18th and 19th century. The finial boasts of a man on top of it all and might be linked to German upper class as he appears to look out and watch the world around him. The wick-riser bears a Star of David and further lends to the mystery. This item was bought from someone who extensively traveled and who also appears to have lost her first husband in World War 2.
This tilting tea kettle with burner has no doubt a fascinating story that is still unfolding. Be apart of the conversation by making this stunning piece of history yours today! There is some minor silver loss to this piece. The loss appears on the bottom of the kettle where the heated area would hit the kettle.
A about a 1.5 inch area along the seem underneath the spout (this area is thin and very light/not affecting the overall look of the piece). The handle as well has some loss along the ridges. Still this amazing piece of history appears to be a one of a kind stunner! Please see all pictures and feel free to ask questions. We are here to help!
Want to know about our company? SAGE APPEAL is here for you and all your questions! We focus on building excellent relationships with our customers in hopes of providing an environment through our store to help our customers relax, grow, and thrive by focusing on what matters to them as an individual. Our hope is to provide ample space for each person we service to have opportunities for creativity, exploration, and inspiration.
WE as people often run ourselves ragged achieving goals that aren't even our own. We hope our store inspires both you and your loved ones to live a life that is permeated by a love that is unhindered. SAGE APPEAL was started by a husband and wife team that works hard to provide top notch customer service. We have a dream to encourage positive relationships in the space of our store. AS a family owned and operated business, you are more than just a customer; you are part of an ever growing family of SAGES.
Our team hunts for the most uniquely attractive items from antique, vintage, and collectibles; from the appealingly timeless or timely gifts to Fine Art and home accessories. We focus on any item that one might feel will help them create an environment of peace, joy, or whatever their passion and help them to build a place for their loved ones to thrive. Not just fill your life with stuff. So our search is very purposeful. We want to make sure it would be an excellent addition to your home or collection. We each have our own thing. We shop for a wide variety of individuals with great hopes you will be thrilled and encouraged to build a world you love and to offer yourself freely to others. From start to finish our goal is to serve you with the highest quality collections of items we can find, provide you with a satisfying customer service experience, and be a go to source you can count on.